DETAIL
【Recommended for banquet】 Concentrated white soy sauce with hot pot course: all 11 items ◇ 2H drink all you all ⇒ 4000 yen !!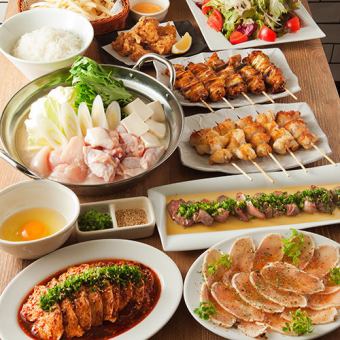 By using a coupon4000 yen
Tax-included price
All-you-can-drink available

Each banquet course comes with a 2-hour all-you-can-drink (you can-you-can-drink premium yen +500)
Reservation deadline

Coming up to 2 days before 23 o'clock in the desired date
Recommendation of this year, "Limited thick white hot soy sauce pans with our shop".W soup combined rich thick mountain soup and Japanese style soup with golden ratio, cooked luxuriously for 8 hours extensively with carefully selected domestic cow of collagen plump pulp.The pot with a dumpling course of 2 hours is 4000 yen with 11 items.
Course menu
*~*~*~*~*~*~*~*~*~*~*
[Course content]
◆ Salt Dale Cabbage
◆ Torna leather ponzu
◆ acorns
◆ Rebacho
◆ Caesar salad
◆ fried from juicy and in Oyama
◆ Hinataro salt
◆ Negimar Sauce
◆ King Lee
◆ French fries
◆ fried from juicy and in Oyama
◆ Concentrated hot water soy sauce pot
◆ Special deferred noodles ◆
*~*~*~*~*~*~*~*~*~*~*
※ 2 H with all you can drink!
* Some menus may change depending on the season.
All-you-can-drink menu
·【beer】
- Kirin Ichiban Shibori
·【sour】
- Oolong High green tea High Jasmine High Calpis sour lemon sour grapefruit sour ginger sour Kokusawa
·【Highball】
·Highball
·【wine】
Glass white Glass red-swilling white wine soda-guzzling red wine soda
· [Shochu]
- Potato shochu, barley shochu <lock or whiskey and water or soda>
·【Cocktail】
- Cassis Orange Cassis soda Cassis Oolong cassis grapefruit
·【plum wine】
· Plum wine <whiskey and water or soda>
·【Soft drink】
-Cola ginger ale, orange juice, oolong tea, green tea, Calpis, jasmine tea, apple juice, grapefruit juice
· [Premium all-you-can-drink additional menu ♪]
Sour salt lemon sour-sweet tomato sour raw squeezed lemon sour raw squeezed grapefruit sour / plum ripe plum wine, tea plum wine-Shikuwasa plum wine / high ball Cork highball Ginger Highball / raw squeezed sangria white and red wine base ( lemon or grapefruit) / shochu Tengu Sakura-Tsurumi / sake Yashio

Coupon that can be used
Always available OK !!
120 minutes Banquet course with drink all you can 10% OFF !!

Presentation conditions

At the time of booking and the time of order

Conditions of use

More than 4 people / Reservation required / All 120 minutes Course with unlimited drinks course / Other tickets and services can not be used together

Expiration date

Until the end of February 2018